Welcome To CTQ.co


Thank you for visiting our website. It exists to promote the ministry of Capernwray Torchbearers Queensland, a regional arm of Capernwray Torchbearers Australia & Bible School.

We organise teaching and ministry events designed to engage, enrich, challenge & inspire. We continue to support local churches in proclaiming & explaining the crucial (but often missed) message of "Christ in you, the hope of glory!" - Col 1:27.



Ron Lowery / Brisbane / Sat 26 - Sun 27 Oct 2019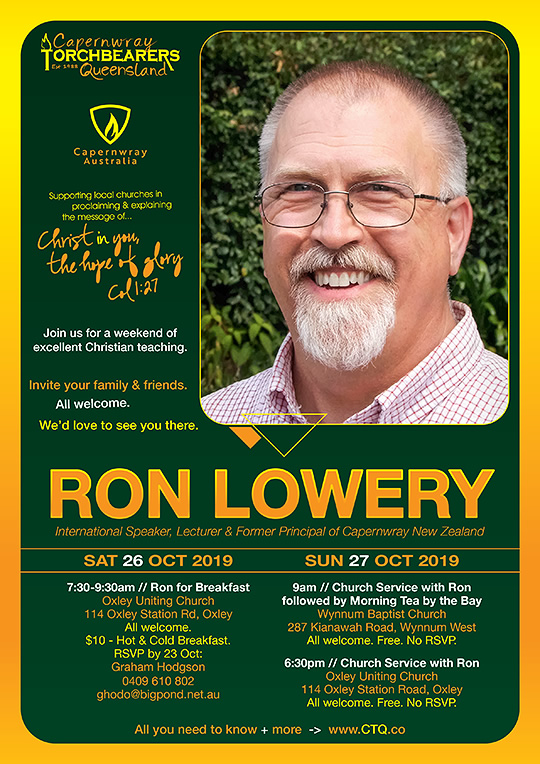 Ron Lowery is our guest speaker in Brisbane this October. We're thrilled he's able to drop by for the weekend of Sat 26 - Sun 27. We've got a Saturday breakfast lined-up followed by two Sunday services with Ron preaching + a morning tea beside the bay which sounds delicious! Find out more on our Events page & we hope to see you there.



Matching You Dollar For Dollar In Support Of The First Ever Philippines Torchbearers Mini Bible School

One of our own - Phillip Gray - is assisting the Director in the Philippines to organise a Mini Bible School in Manila from 8th April - 3 May 2019.

+ Please pray for this month of ministry. This hasn't happened before. All the guest speakers are volunteering their time including Satish John (India), Neil Bernard (Aus), Peter Bichan (NZ) & Phil himself.

+ To help bless Phil & the Philippine students would you consider sponsoring a student? It costs AU$270 to sponsor one student for 4 weeks including accommodation, meals and materials. You can pay all or part. Over 45 students have committed to attending.

+ WE WILL MATCH THESE SPONSORSHIP DONATIONS DOLLAR FOR DOLLAR! Let Alasdair & Karen know how much you are willing to donate. We'll collect it from you and get twice that to where it needs to go. Alasdair & Karen Drew - 07 3720 1460, akdrew14@gmail.com .

Callum & Jazlyn Thomas Move To Brisbane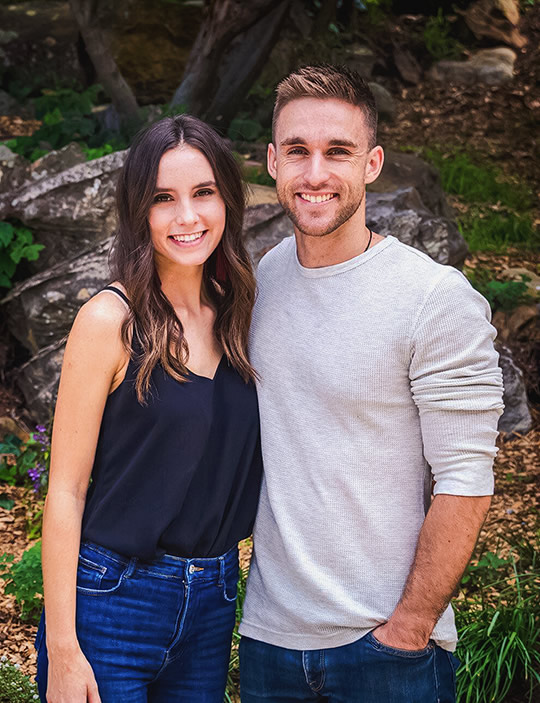 Callum & Jazlyn served at Capernwray Australia (Wongabri) for many years as Ministries Coordinator and Domestic Manager. They are still very much a part of Capernwray Australia and will travel to Wongabri for particular Bible School ministry events throughout the year.

Callum is the Grandson of Major Ian Thomas, founder of Capernwray Torchbearers Ministries Worldwide. Like his grandfather he has an amazing gift in his ability to share Christ simply & effectively. He's looking for opportunities to share the gospel. That's where you come in. If you're in Queensland and would like him to share at your church, youth group, youth event or otherwise, get in contact with Alasdair. We'd love to arrange it & Callum would love to share!

Callum has taken up roles with Dare 2 Share Ministries and Operation Mobilisation (OM) together with a temporary youth pastor role on the Sunshine Coast. And he says he has time to preach at your church & youth group! Maybe he doesn't sleep :)



Stories & Short Messages...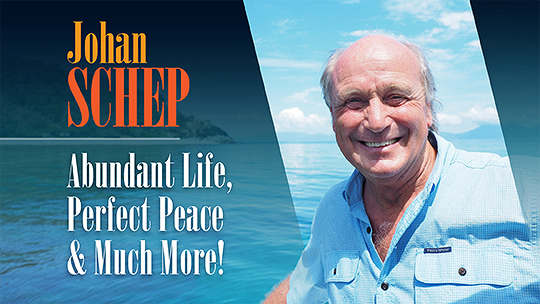 Geoff Rankin has filmed a special series of 16x 2-5 min stories & messages by Dutch evangelist Johan Schep, out & about in Queensland, that Johan is distributing around the world, including jails in Africa. Some great content - all in Johan's style! Share it with your family, friends, church etc. Watch it now on YouTube - https://youtu.be/fC_ZvUPmxrI .



Want To Go To Bible School?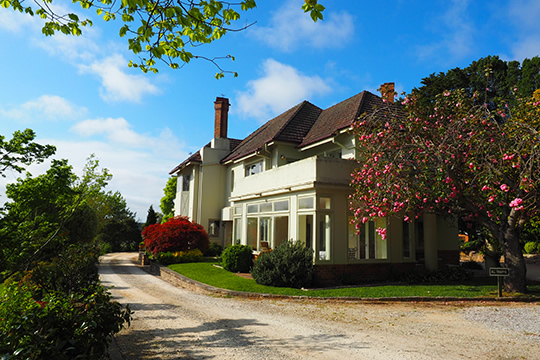 Do you desire a solid grounding in your Christian faith, studying with others from all over the world? Do you want to learn in a stimulating environment set in the beautiful NSW highlands? Capernwray Torchbearers Australia exists to provide a quality Christ-centred educational environment where each individual is taught and nurtured in the Word of God. Hey, and you're never too old!!! More...



Who Are We @ CTQ?



It's a good question and one we'd like you find out the answer to. Find out here.




Suggestions



- Events
- Contacts
- Mailing list
- 'Wongabri' Bible School
Upcoming...

Once dates are confirmed they are posted in Events.


Sat 26 Oct 2019
7:30-9:30am
Breakfast – $10.00
Speaker: Ron Lowery
More info here

Sun 27 Oct 2019
9:00am
Sunday service
Speaker: Ron Lowery
More info here

Sun 27 Oct 2019
6:30pm
Sunday service
Speaker: Ron Lowery
More info here


You can also keep up to date by joining our mailing list & by following us on Facebook & Twitter.

Since 1988...

...we have organised many conferences & events with Christ-centred speakers in places such as Ballina, Brisbane, Dalby, Gold Coast, Lake Moogerah, Longreach, Mackay, Mt Tamborine, Sunshine Coast and Toowoomba.

...we have supplied thousands of these recorded messages on DVDs, CDs, videos & cassette tapes Australia-wide. Books too.

...we've been supporting local churches in proclaiming & explaining the message of "Christ in you, the hope of glory!" (Col 1:27).
Future Programming



We're in regular contact with speakers from all around the world for future programs. If there is a speaker you'd like to recommend or suggest, email Alasdair at akdrew14@gmail.com . More...
Keep Informed
You will be kept informed of the latest events and ministry updates by joining our mailing list & by following us on Facebook & Twitter.